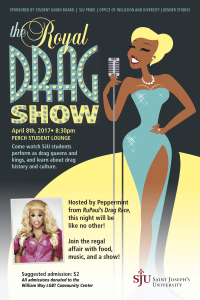 The Royal Drag Show: Come watch SJU students perform as drag queens and kings and learn about drag history and culture. Hosted by Peppermint from RuPaul's Drag Race, this night will be like no other! Join the regal affair with food, music and a show!
Suggested admission: $2. All admissions donated to the William Way LGBT Community Center.
Sponsored by: Student Union Board, SJUPride, Office of Inclusion and Diversity, and Gender Studies.