Lauren Preski & Madeline DeMarco: 2019-2020
Dear Readers,
It is with immense pride that we have led Women's Leadership Initiative throughout the 2019-2020 year. Due to extraordinary circumstances, WLI's on-campus programming was abruptly cut short, but our spirits are not dismantled. In our time together, we have continued to mold Women's Leadership Initiative into an organization that empowers young women throughout our campus. We are full of gratitude for the success we have achieved and full of hope for what's to come. 
Highlighting some of our monthly meetings, we have the utmost gratitude and respect for our fellow executive board members for taking the lead on concepts that are extensions of WLI's mission statement. Specifically, our October Meeting: "LinkedIn or Left out?" echoed the significance of teaching students about professional development on LinkedIn. Our November Meeting, "Making a Better & More Informed SJU: A Discussion About the University Climate Study" emphasized the power of collective action in a university setting, motivating and creating action steps in order to seek tangible change on SJU's campus. WLI successfully hosted our sixth annual Professional Development Day this February. We continue to offer young women a toolkit of professional development skills to use in their future endeavors. This event is a pinnacle of WLI's mission. One must remember that no mission can be accomplished alone; We would be at a loss without the hard work of each and every executive board member. 
To our advisors: thank you for being a system full of support for not only us, but the entirety of the executive board. We recognize that WLI is an extension of all of the great works you do at Saint Joe's and in your everyday life. We are eternally grateful for your commitment to guide us into the professional women we are today. Specifically to Dr. Scola and Dr. Crispin, the advisors that we have worked most closely with, your advice is invaluable and we are better versions of ourselves because of the time spent learning from you two.
All the best,
Madeline DeMarco and Lauren Preski 
WLI Co-Presidents
Caroline Kelm & Lauren Preski: 2018-2019
Dear Readers,
It is without a doubt that the academic year of 2018-2019 has been a year of transformation and growth for Women's Leadership Initiative. As Co-Presidents, we have been grateful to have had the opportunity to lead and facilitate the development of this professional organization. Through monthly meetings, film screenings, the Distributing Dignity Drive, and Professional Development Day, our organization was able to provide a safe space in hopes to have made a difference in the lives of women on campus. We are extremely proud of our own efforts, however Women's Leadership Initiative would not be able to meet its goals without the help and support of many others...
Regarding our advisors: Thank you for all that you do. Nothing would be possible without all of you. Our Communications Team under Dr. Janée Burkhalter has been restructured, merging the Social Media and Marketing branches of our Executive Board, thus allowing for a more effective strategy in regards to communications and the role it plays in our organization. Dr. Josephine Shih alongside of Gina Maria Vreeland, Director of Communications, lead our first ever Women's Health Subcommittee to a successful outcome of producing trash receptacles for the disposal of feminine hygiene products in individual restroom stalls across campus.
To our other advisors, Dr. Becki Scola and Dr. Laura Crispin, we are who we are today in part because of you. Your dedication to feminism, progressive ideals, and producing change and outcomes rooted in intersectionality, equality, and justice is something that we will carry with us through our future endeavors. We are so proud to have worked with the Havertown Community Action Network's Women's Issues Group for the second year in a row due to Dr. Crispin's involvement. Last, but certainly not least, Dr. Scola, our fearless leader; thank you. WLI, Saint Joseph's University, and the world would be at a great loss without your mind, your heart and your mentorship. To all our advisors, thank you for embodying the true meaning behind "Empowered women, empower women." We hope that we have made you proud.
Regarding our Executive Board: Wow. The Executive Board for this year has surpassed all expectations and grown to numbers larger than we have ever seen. Within this group, professional and personal developments flourished. New positions were created to accommodate the growth of our organization and your seemingly flawless transitions into these did not go unnoticed. We hope that WLI is for you what it was for us; a safe space that allows you to challenge your preconceived notions of the world before college and a community of highly motivated women that supports you in your professional growth.
Regarding our General Members: Your presence on campus offers a brave and necessary perspective for the rest of the Saint Joseph's community. We hope that your involvement, whether it was through direct work on the subcommittee, sharing your thoughts at our monthly meeting, or by simply being present and supportive has taught you more about how to effectively organize to achieve a common goal. Thank you for the opportunity to listen and to be heard. You are constantly challenging us to raise our standards, and rest assured we will never stop working to achieve more. Above all else, never forget that you are essential to the success of the organization and every success defined and encountered by Women's Leadership Initiative, we have achieved together.
We leave you with something that we remember from our first Women's Leadership Initiative's monthly meeting and the words of a past President, Lauren King. "Be conscious of how many times a day you say you're sorry." To those who will join us in our journey, we welcome you with open arms; It is never too late to take charge of your own destiny and make a difference in the lives of others.
With Sincere Admiration to Our Community,
Lauren Preski and Caroline Kelm
WLI Co-Presidents
Taylor Wallburg & Zoë Malone: 2017-2018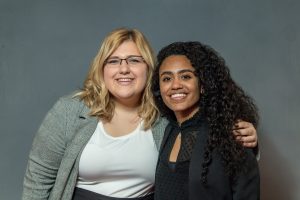 Dear Readers,
When we came to Saint Joseph's University, we had little to no ideas of what we wanted to do on campus or how we would leave our mark on Hawk Hill. However, like every other freshman, we attended the Activities Fair in the fall to guide ourselves towards our future goals. Like a glowing blue beacon, the Women's Leadership Initiative table, staffed with confident young women, shined out. We had no clue what Women's Leadership Initiative was, but we knew we had to get involved. And who would have guessed that attending monthly meetings would turn into leading weekly Executive Board meetings as Co-Presidents four years later?
Through the helpful mentoring of strong Faculty Advisors and brilliant past E-Board members, we have grown a lot. Without WLI we certainly would not have had the amazing college experiences we've come to enjoy. Through the meetings and discussions we had every month, we learned more about the intersectional realities of the world. Whether it be the first-hand experience for pay negotiation or a brief history lesson on feminism, these meetings, and a variety of topics, were integral to shaping our current ways of thought.
To our past E-Board mentors, that is the women who helped found Women's Leadership Initiative, we thank you for being the women brave enough to start a proud feminist organization like this one on a campus like Saint Joe's. Without pioneers like you, we don't know where we could have had such profound and topical conversations like these on campus. Thank you for being that necessary beacon at our Activities Fair, because if you weren't there, who knows where we would have ended up. To our Faculty Advisors: without you and your tireless sacrifices, this organization would not exist. You are all that has made this organization thrive and we recognize how fortunate we are to have such influential female leaders in their fields as our advisors. We appreciate how you have always had our backs when it came to our creative expressions on this campus. Thank you for being such strong leaders, we both aspire in the years to come to be such strong powerful women leaders, like all of you are. To the women on our E-Board who will take over the WLI legacy when we graduate; we look forward to seeing the work you create on campus. We are leaving it with formidable women who have the power to make changes on our campus and help develop skills in fellow young women who might be apprehensive at first to take on leadership roles. To the young women who are going to join our E-Board, we leave you with this quote:
"Many stories matter. Stories have been used to dispossess and to malign. But stories can also be used to empower and to humanize. Stories can break the dignity of a people. But stories can also repair that broken dignity." ― Chimamanda Ngozi Adichie
Sincerely,
Zoë Malone and Taylor Wallburg
WLI Co-Presidents
Lauren King & Christina Ciconte: 2014-2017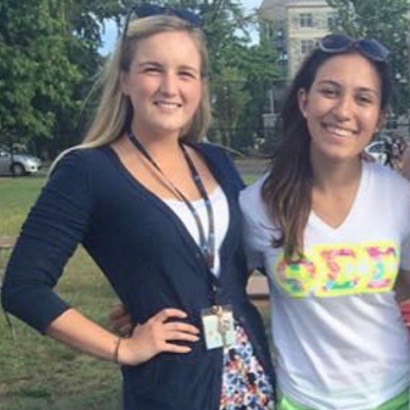 Dear Readers,
Reflecting on the 2015-2016 academic year, we are thrilled by the development of this organization, as well as its members. Hard work, long hours and dedication are the reasons why the Women's Leadership Initiative is now a prominent name on campus; thank you to every individual who has contributed this year in making it so.
To our Executive Board: your dedication was especially tremendous. With Kailee's graduation, we lose a remarkable asset toner organization, but we wish her the best in her future endeavors. We look forward to Kailee's attendance as an alumna at our Professional Development Day.
To our faculty advisors: your guidance, support, and knowledge continue to be instrumental to our development as an organization and understanding of our own identity. It is because of you that we are so confident in our inclusive, feminist organization.
To our members: your enthusiasm and commitment to the Women's Leadership Initiative are what motivate us to continue to push a dynamic agenda for monthly meetings, speakers, and other events. The energy during any of our monthly meeting discussions and guest speaker events is inspiring.
As we grow every year, we are so proud of and thankful to those who continue to push our organization forward in achieving its mission. Being active in the Women's Leadership Initiative can be one of the most influential experiences possible while a student at Saint Joseph's University. We encourage every reader to take the initiative to be more involved, and to bring a friend!
Looking Forward to Next Year,
Lauren King and Christina Ciconte
WLI Co-Presidents