When WLI was founded in the 2014-2015 academic school year, there were five women on the executive board who built the foundation of what our organization is today. The briefcase in our first logo represents hard-work and professionalism which we encourage in every woman on campus. The stairs represent progress and challenges that women face in the workplace and in the world. It may be harder than walking on flat ground, but we are more than up to the task.
During the 2020-2021 academic school year, we held a competition open to all SJU students to create a new logo for us. They were given our mission statement which can be found here, our old logo, and things we were looking for.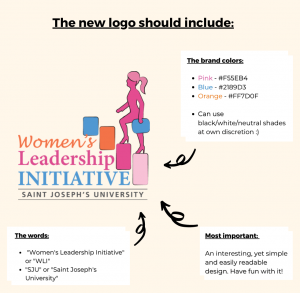 After the first round of submissions, applicants were given feedback from the WLI Executive Board. After edits, narrowing down from E-Board, and votes from followers of our Instagram page, the logo designed by Natalie Pereira '24. Below is our updated logo as of January 2021 and a description from Pereira.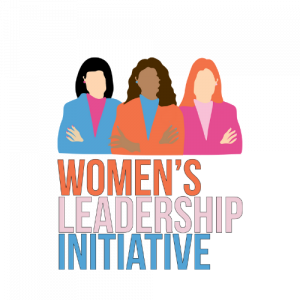 "I felt like the image of a woman in a powerful stance (using the WLI colors) was a good representation of the Women's Leadership Initiative at SJU. WLI is all about putting women in power and pushing towards equality. The image of a woman in professional attire with her arms crossed as if she is saying "I've got this" is a great representation of everything WLI encompasses." - Natalie Pereira '24