Learn about our Social, Health and Academic Resources Available on Campus!

Find Out More about the Students that Represent You and Your Secretaries' Goals and Missions!
All meetings of the University Student Senate are open to students/faculty/administration. Meetings are held every Monday at 5:30 pm in the President's Lounge. We hope to see you there.
An Introduction from the President:

Welcome! We are glad that you have taken the time to visit the official website of the Saint Joseph's University Student Senate (USS). The Senate serves to advocate with and for student interests on Hawk Hill. We must ensure that faculty, staff, and administrators never forget that students drive the university's efforts and should be taken into consideration at every step of the journey. Our Jesuit, Catholic mission calls us towards continual improvement, never content with where we stand in the present.
Speak up. Reach out. Challenge others. We as a Senate, and as an entire campus community, function best when students are willing to step outside of their comfort zones and voice their opinions. Let us know how we can help on this journey. Conversation is the first step towards action that makes a sizable impact.
"ACT AS IF EVERYTHING DEPENDED ON YOU; TRUST AS IF EVERYTHING DEPENDED ON GOD."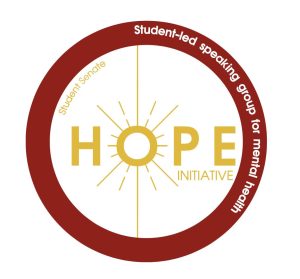 The HOPE Initiative is an SJU Student Senate, an entirely student-run organization dedicated to the mental well-being of all SJU students. Through events such as Monthly peer-to-peer mental health workshops, fundraisers, and speaker events, we HOPE to establish a culture of acceptance and empathy around mental health.
We want to hear from you! If you have questions on our missions or have special requests, please stop by the senate office or email us. We're happy to set up appointments with students and faculty. We are located in Campion right next to the public safety office (Campion 229B)