Saturday, December 9th | 1-3pm  | Doyle Banquet Halls (Campion)
Stop by anytime 1-3pm .. ALL are welcome, students, staff/faculty, and Alumni!
$5 door fee goes directly to Habitat for Humanity Affiliate of Philadelphia. Can be paid day of via cash or venmo.
Second Annual Gingerbread House Making Contest!
Your team will be given supplies and the team with the best home will receive a prize. Different priest from Saint Joseph's Universty will be the judges. The Competition will begin at 2:00 pm. Please sign up ahead of time and Venmo (@sjuhabitat) your registration fee. 
Team of 2 $7 early sign up ($10 day of)

Team of 4 $12 early sign up ($15 day of)
Price includes your $5 entrance fee/ Donation to Habitat!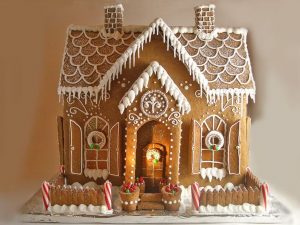 Food & Fondue!
Enjoy some snacks dipped in chocolate fondue and some Chick-fil-A. Along with some other super good foods!
Ugly Sweater Contest!
Be sure to dress in your most festive holiday sweater. The best and most festive "Ugly Sweater" will be awarded a prize. Judging for this contest will be at around 2:30 pm.
Games, Movies, Music, BINGO and More!
Enjoy tons of mini-games, holiday movies (ELF!) and music.
Walk the red carpet and take a gram (instagram that is) in holiday fashion at our photo area. Or maybe create your own ornament! Don't miss our games of BINGO - with prizes!
If you don't get a prize from the Gingerbread house build or BINGO, try your luck at one of the prizes we will be raffling off towards the end of the day!