September Monthly Meeting: Welcome Back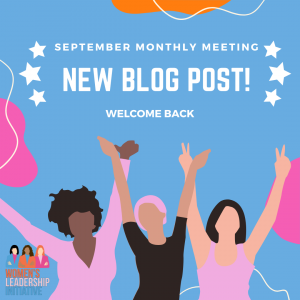 Women's Leadership Initiative recently held our first monthly meeting of the school year. The first meeting is always a super cool and easy way for us to meet with all our old members and new members looking to join. It's always so nice to see new and exciting faces, eager to join in on all that we do in WLI. We went over a basic rundown of what we do, who we are and what our schedule is looking like for the coming semester. After this everyone kind of got to know each other and feasted on some snacks. It was an awesome meeting and we look forward to what's next to come. 
What really made this meeting remarkable was the fact that it was our first in-person meeting since February 2020. With classes and meetings online last year it was a difficult time for all of us and we are definitely glad to be back. It had been so long since a group of powerful, bright young ladies sat in a room and just talked face to face, and we are happy that WLI helped facilitate it. We hope to continue to have such great conversations in the months and meetings to come as it really is what makes WLI the organization it is.