Contributing Our Part to Women in Need: WLI's Distributing Dignity Drive 2019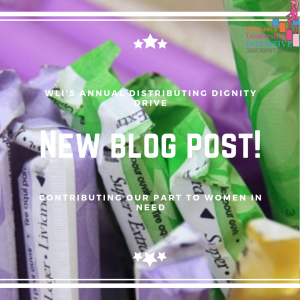 Each year, Women's Leadership Initiative at Saint Joseph's University organizes a campus-wide drive to collect pads, tampons, and unused bras/underwear for women in need. For this year's drive, members of WLI placed boxes at different locations throughout campus where students could donate their contributions to the cause. Additionally, to bring greater awareness to the universal issue of women's lack of access to feminine hygiene products, WLI partnered with the Nealis Program in Asian Studies to host a film screening of "Pad Man" and "Period. End of Sentence."
From the generous donations of SJU students throughout the months of March and April, we are very pleased to announce that we collected: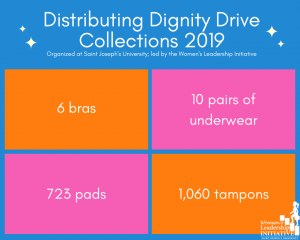 All of the donations were sent to the non-profit organization "Distributing Dignity" which aims to uplift the dignity of women in need through supplying them with feminine products from donations and drives like the one WLI holds each year on campus. 
The concept of "Distributing Dignity" emerged in 2009 at a homeless day center in Camden, NJ which provided women with gently used business clothing for job interviews. The organizers were struck by the large number of women who were in need of basic femine hygiene products such as pads and tampons. It quickly became apparent that these women would not be able to pursue greater opportunities without having their basic needs met. In hopes to bridge this gap, Distributing Dignity was created and has had great success in its mission since its beginnings in 2010. Today, the organization serves in over 52 cities with 70 partners nationwide and is continuing to expand its operations. 
In addition, we would like to acknowledge our current WLI Co-President, Lauren Preski, for establishing this annual drive on campus as it has become one of WLI's most important events of each year, shedding light onto such a crucial issue in society. We look forward to continuing to partner with Distributing Dignity each year in coming together to make positive change in our community.
To learn more about the locations in which Distributing Dignity serves and how to become more involved, please visit: https://www.distributingdignity.org/learn-more.
About the Author: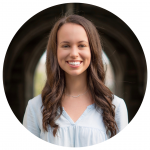 Liz Sweeney, Class of 2021
As a member of WLI's Communications Team, my main responsibility is maintaining and expanding engagement with our members and other organizations through our primary social media platforms (Facebook, Instagram, and Twitter). This includes live-tweeting our events, posting blogs and event information, and staying active on all accounts. My goal is to help create an online presence that represents and demonstrates WLI as being an accessible and lively community for all who are interested in what we do!