Professional Development Day 2019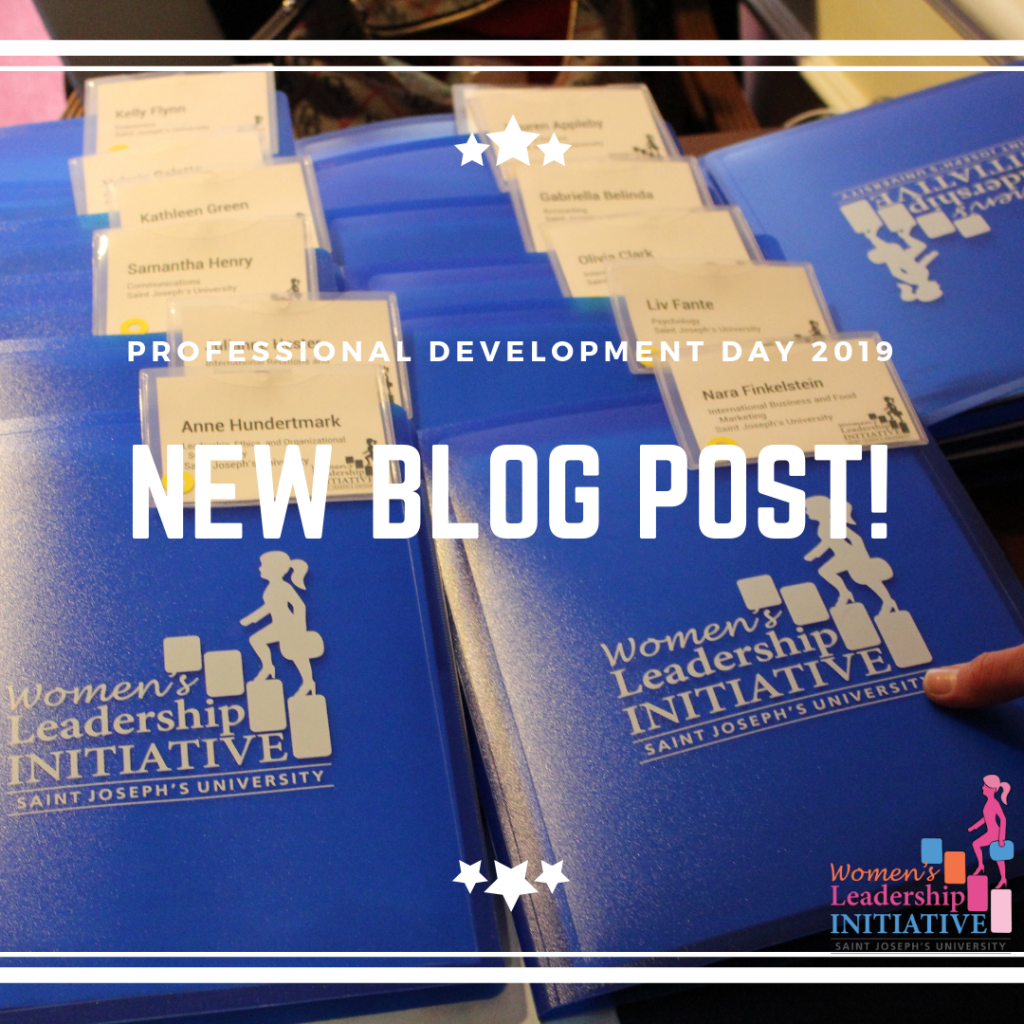 On Saturday, February 23, Women's Leadership Initiated held its fifth annual Professional Development Day (PDD). Headed by Caroline Kelm (Co-President), Lauren Preski (Interim Co-President), and Raeghan Smith (Vice President), WLI organized a day long workshop dedicated to helping SJU students further their professional skills.  Held in the Haub Executive Center, 41 young women attended this workshop, which featured speakers, a post-grad panel, and a mocktail hour.
The first speaker of the day was Trish Shafer, the Executive Director of SJU's Career Development Center. She discussed the importance of networking and covered the often overlooked parts of networking events, such as handshakes, body language, and follow-up emails. To put their skills to the test, attendees broke up into pairs and practiced their introductions with one another.
Dr. Janée Burkhalter, Associate Professor of Marketing at SJU and one of WLI's advisors, demonstrated the importance of personal branding. Dr. Burkhalter specifically talked about incorporating elements such as our favorite colors and quotes into our professional brand. Attendees wrote down their strengths and weaknesses, along with personal aspirations, inspirations, and even personal anthems.
Our panel of postgraduate students closed out WLI's speaker line-up. They fielded questions from Natalie Walker Brown, SJU's Director of Inclusion and Diversity, and gave attendees a glimpse into life after SJU. They gave insight into the working world, what has been the biggest adjustment, and how their identities have played a role in the work they do.  
We ended the day with a mocktail, where professionals, SJU alumni, and SJU faculty came to mingle and network with attendees. Attendees were able to test their newly learned skills and talk to people working in a variety of fields. Each attendee left PDD with WLI padfolios, pens, personalized business cards, and WLI business card holders.
Women's Leadership Initiative would like to thank all of the student attendees, speakers, mocktail participants and our sponsor, Ernst & Young, for making WLI's 5th Professional Development Day a major success!
About the Author:
Christine DiSanti, Class of 2021
I work as a member of the Communications Team for WLI. I create promotional materials using Canva, distribute flyers throughout SJU's campus, write and publish blog posts, and help manage WLI's Instagram stories.