E-Board Spotlight: Erin Fenzel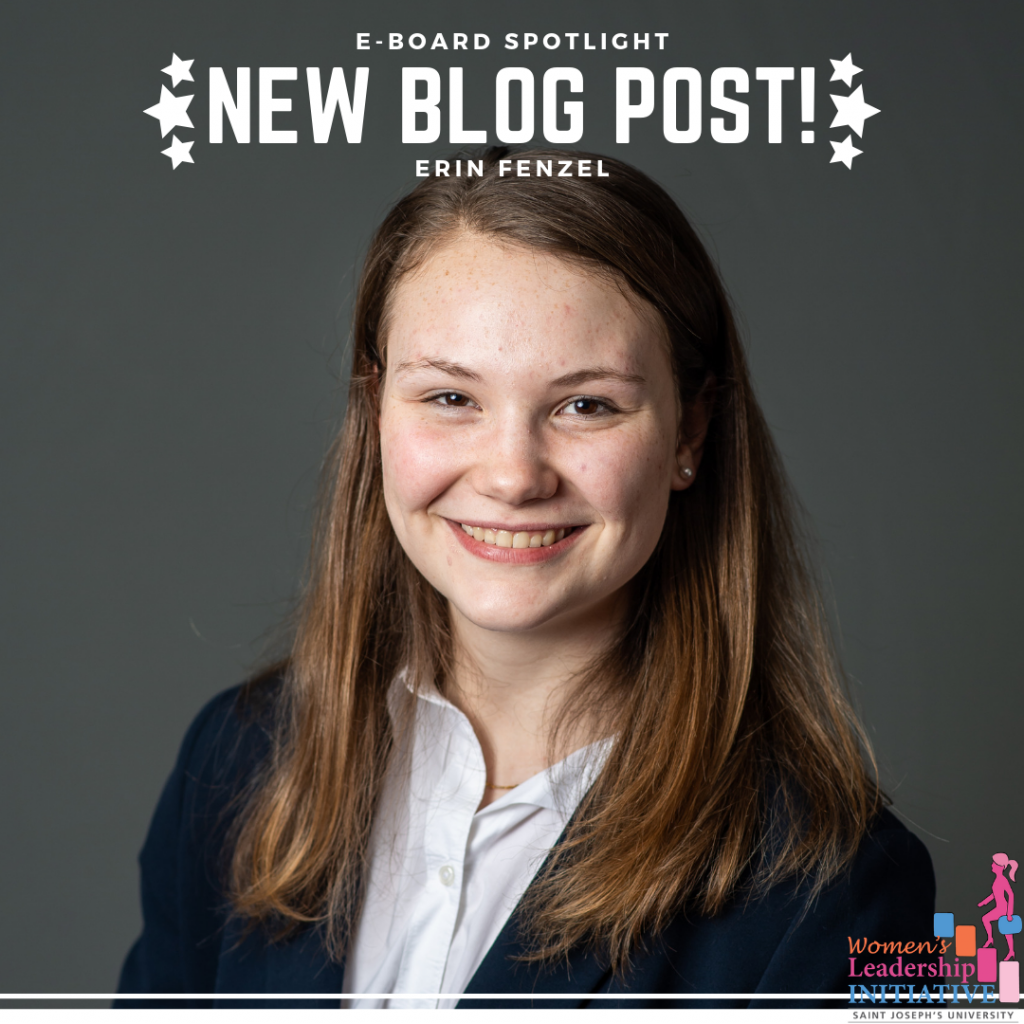 Rising Sophomore Erin Fenzel is the Co-Director of Campus Relations for Women's Leadership Initiative. Erin is originally from Washington D.C. and is currently studying International Relations at SJU. She is very passionate about the environment and sustainability, racial equality and protection, and women's rights. Erin says she draws inspiration as a young feminist from Senator Kamala Harris (D-CA) because of the manner in which she "handles criticism, the ways she states her opposition in a respectful manner, and the bills that she has supported and introduced that protect those who are less fortunate."
Erin discovered WLI while attending the Fall Activities Fair during her freshman year and became a member. Shortly thereafter, Erin became the protégé to Morgan Williams, who was WLI's first Director of the newly created Campus Relations Team. Here's what Erin had to say about why she joined WLI:
"Women's Leadership Initiative is for the betterment and success of all women. I have been so impressed by the outstanding effort to be intersectional and to focus on issues that directly affect the women (both students and employees) on this campus, which, in turn, benefit Saint Joseph's University as a whole."
As a member of Drexel University's Army Reserve Officer's Training Corps (ROTC), Erin will be going into the military for her first five years after graduation. Regarding plans for the future, Erin is considering law school as a possibility.
About the Author:
Gina Maria Vreeland, Political Science Major, Minors in Latin American and Latinx Studies and Justice and Ethics in the Law, Class of 2020
My primary role on WLI's Executive Board is Director of Communications. In this capacity, I lead a team of three women who comprise the Communications Team. My team is responsible for the entirety of WLI's online and print presence. I also serve as the Chair of our
Women's Health Subcommittee
, which ensured the installation of trash receptacles for the disposal of feminine hygiene products in women's restroom stalls on SJU's campus in 2019. Happy Reading!